Marketing your South Bay Home for Success
Our goal is to provide a seamless and smooth transaction while netting you the highest amount of money in the shortest amount of time. We aim to get as many qualified buyers in front of your property so we can increase our odds of receiving timely offers.
Our strategy consists of direct marketing methods utilizing door-to-door mail merge flyers and hyper local south bay media print publications. We leverage our traditional print advertising with a digital campaign consisting of high definition videos, virtual tours, search engine optimization, e-newsletters, social media, international multi-language marketing and a 35 step marketing plan that will optimize the sale of your home.
Pre-Listing


We will help prepare your home for sale by offering suggestions to enhance its marketability.


We will work with you to set a competitive list price by researching comparable sales in your south bay community and adjusting the price to reflect the unique features of your home.


We will familiarize you with the standard forms so you are prepared when an offer comes in.


Your home will be professionally stagged and photographed.
Marketing Campaign


We will submit your south bay home to the California Regional Multiple Listing Service.
We will produce a virtual tour to highlight your home.


A high definition video of your property will be available on YouTube.


We will distribute information about your home to all agents at our brokerage.


Your south bay home will be promoted to other local brokers from our own proprietary email database.


We will feature your home in our quarterly newsletter which is emailed to over 1500 people.


Professionally-prepared flyers will be circulated to agents, homeowners in your area and potential buyers.


We will install a professional sign and flyer box on your south bay property as approved.


Creative ads will be developed and placed in local media publications including Digs Magazine, The Beach Reporter and the Daily Breeze.


Your property will be promoted on numerous other real estate sites (Zillow, Trulia, Craigslist, Realtor.com, hotpads.com etc.).


We will feature your home on our website (www.TadThor.com) which ranks high in Google search results for south bay homes.


We will mail "Just Listed" postcards to your neighborhood so they can alert us if they have friends or acquaintances who may be prospective buyers.

Luxury south bay homes will have a dedicated web site (for example www.yourhomeaddress.com).


Virtual tour will be available in multiple languages for luxury south bay homes
Showing your South Bay Home


Direct a company-wide tour (Caravan) of the property for all agents.


Conduct a Brokers' Open House, inviting all the agents in the area.


Conduct and host public open houses on the weekends if desired.


Show your south bay home to prospective buyers by appointment and by installing a lock box so Realtors can view the property with their clients upon seller approval.
Managing the Process


We will track the progress of your listing and report back to you in a timely manner with regular updates.


We will represent you during the presentation of all purchase offers and negotiate the best possible price and terms for the sale of your home.


We will Coordinate inspections and appraisals


We will monitor the buyer's loan process


We will review escrow instructions, inspection reports and disclosures


We will negotiate repair requests and address any other issues with the buyer's agent that may arise through the process.


We will keep proper records for the sale of your home after closing.
Virtual tours help your listing stand out from the crowd and create excitement and anticipation with buyers. Luxury properties are offered in multiple languages to reach an even broader audience.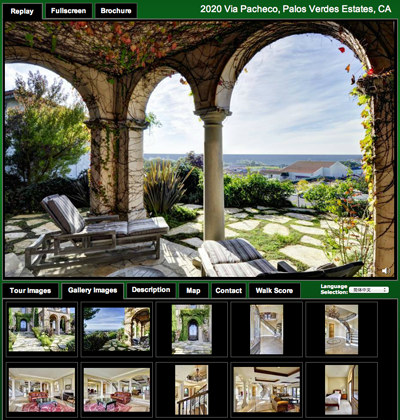 We increase exposure to your property through our south bay social media channels. This gives us direct access to a large pool of friends, family and business associates throughout the south bay community and beyond.



People access information on a variety of different platforms and we we like to have a presence on all of them. High definition videos on YouTube are a great way to highlight your property and engage buyers.



We utilize local print publications to create awareness about your property and our presence and brand.





Your listing will be added to the MLS and many other high traffic web sites where it can be seen by many potential buyers.



Considerations to keep in mind to help the whole home selling process go more smoothly
A comprehensive guide to selling your home